VENTEGRA NEWS
August 4, 2021
Empowering our Medical Group Partners to Provide More Affordable Health Care and Tools for Better Clinical Decision-Making
Every day, Ventegra's 100-plus front-line, at-risk medical group clients are significantly improving their clinical decision-making ability, helping them to reduce health care costs and improve patient outcomes.
Together with Ventegra's nearly two-decade strong relationship with pharmaceutical manufacturers, we can provide essential, time-sensitive, clinical integration data to support vital pathways that manage our medical group partners' health care costs.
Ventegra provides direct contracting (including outcomes-based), clinical support, net-cost modeling, expertise on quality measures, pull-through programs, and most importantly, achieves this in a contractually compliant and transparent manner.
In just less than 12 months, Ventegra's roster of medical group clients has grown by 20%, underscoring both the tremendous practical benefits realized by the medical group provider community and their collective trust and confidence in Ventegra.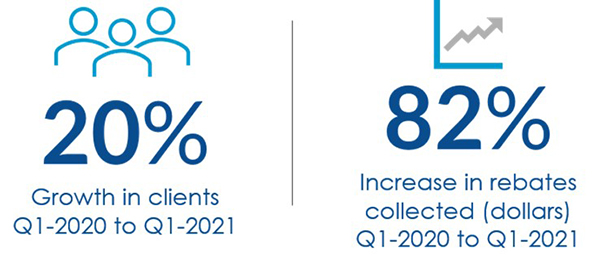 Ventegra's commitment to our medical group provider heroes is unwavering, as is their commitment to improving the lives of their patients. Our knowledge and understanding of health care delivery, examination of total health care cost, and expertise in managing medical and pharmacy benefits make us unique in the marketplace.
Join our other clients who have taken control over their medical and pharmacy benefits through Ventegra's unique Medical Benefit Management (MBM) program. Please contact us if you are interested in learning more.